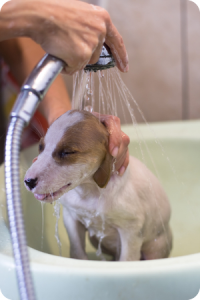 Bring your dog to an experienced dog groomer that has groomed multiple breeds of dogs.  Regular grooming of your dog has the benefit of cleanliness.  Having your pet come in for dog grooming with a dog that regularly sheds can reduce the amount of hair that is left around the house.  This is good for your pet, good for your house and reduces cleaning time.
Dogs that shed little or no hair also have benefits of a good grooming.  These types of dog breeds that don't shed, often have hair that continues to grow and becomes long, unruly, and matted.  This can affect the health of your dog's skin and give your dog an undesired appearance.
As mentioned above, one of the benefits to grooming is your dog's appearance.  You may want to have your dog primped and pampered so they are looking great.  Each of the dog breeds, has different, standard dog groom styles.  Your Posh Pooches groomer will groom to that style, unless you have a specific way you like to have your pet groomed.  If so, just let your Toronto dog groomer know your preference.
Toronto Dog Groomer Services include:
Nail trimming
 (cats, rodents, rabbits).
Keeps the feet and joints comfortable
Ear cleaning
Helps prevent infections in some breeds
Customized "haircuts"
To breed standard or short clips; custom styles to suit your needs
Brushing
For a healthy coat. Expert de-matting also available.
Sanitary shaving
Bums and stuff.
Bathing
Hypo-allergenic shampoo and blow drying
Anal gland expression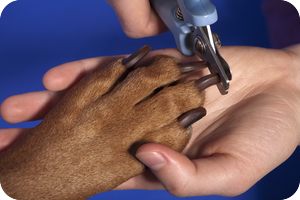 Two tiny sacs should empty on their own but sometimes they don't and become full. In this case they need "expressing".
Ear hair removal
To allow air circulation and prevent wax build-up and infection in some breeds.
Skin health assessment
Help with fleas, dry skin, oily coats, excessive shedding and cysts.
Click here to review a complete list of our dog grooming prices.