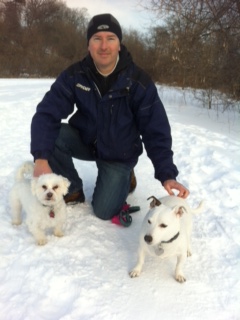 Hello, my name is Dave and I'd love to walk your dogs.  If you have a dog, you know how important dog walking can be.  You might not have a lot of extra time on your hands with the availability to give your dog the daily exercise he/she needs.  This is why people can count on a Toronto Dog Walker from Posh Pooches to get the job done.  If you and your dog live in the areas of High Park, Bloor West Village, Toronto Junction, or Baby Point, we'd be happy to bring your dog(s) along on our walks.
Just like people, if your dog doesn't get the chance to go out for a walk and get some exercise each day, this can negatively affect their health and contribute to a variety of health issues.  Regular walks will diminish a dogs' desire to chew on household items and give them necessary bathroom breaks in the middle of the day.  Your dog will happily anticipate their daily walks and be ready to greet you when you return home.
Dogs have an abundance of energy and need to release that energy on a regular basis.  Multiple walks per day are encouraged for dogs of all ages.  Of course, some dogs need more time walking than others, but each dog needs plenty of exercise.  As dogs age, it's still good for them to get exercise, in fact it becomes even more important to maintain health.  Younger dogs need exercise as well to maintain their health and remain calmer when inside the home.
Utilizing a dog walker is a good idea when you do not have the availability to take your dog out on their daily walks.  It might just be a few days throughout the month when a walker comes to take your dog out.  Or, if your schedule is completely booked up throughout the day, you may need complete monthly walker coverage.  Under either circumstance, Posh Pooches Toronto pet services can help.
We know you have many dog walking companies to choose from so we're happy you selected us!
Dog Walker Customer Extras
Additionally, as a regular dog walking customer, if  you have need for a grooming, we"ll simply bring your dog to our dog grooming shop after their walk, have them groomed and washed and dried and have them at home before you return.
Dog Walking Prices
How much do dog walkers charge? Please click here for a complete list of dog walking rates and prices for all services at Posh Pooches.